Whether you're trying to sell your first book or your fortieth, the road to publication is never an easy one to navigate. Let Liberty States Fiction Writers guide your way. A multi-genre organization, the Liberty States Fiction Writers is dedicated to the education and support of all fiction writers. We provide workshops, networking events and promotional opportunities to aid both published and yet-to-be published writers.
---
October 14th meeting
Killer Pacing vs. Killing Your Pacing
Lois Winston
Ever hear the expression "Less is More"? When it comes to writing, authors would do well to take those words to heart. Too many manuscripts are rejected because writers draw out their scenes to the point where they become yawners, putting the reader to sleep instead of turning pages to find out what happens next. In this interactive workshop author Lois Winston will offer ways to avoid killing your pacing by creating killer pacing.
Lois Winston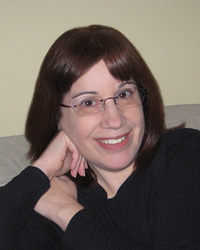 USA Today bestselling and award-winning author Lois Winston writes mystery, romance, romantic suspense, chick lit, women's fiction, children's chapter books, and nonfiction under her own name and her Emma Carlyle pen name. Kirkus Reviews dubbed her critically acclaimed Anastasia Pollack Crafting Mystery series, "North Jersey's more mature answer to Stephanie Plum." In addition, Lois is an award-winning craft and needlework designer who often draws much of her source material for both her characters and plots from her experiences in the crafts industry.
Website: www.loiswinston.com
Killer Crafts & Crafty Killers blog: www.anastasiapollack.blogspot.com
Pinterest: www.pinterest.com/anasleuth
Twitter at https://twitter.com/Anasleuth
Newsletter sign-up: https://app.mailerlite.com/webforms/landing/z1z1u5
---
October Featured Author
Lois Winston will be signing copies of:
An Anastasia Pollack Crafting Mystery, Book 6
Crafts and murder don't normally go hand-in-hand, but normal deserted craft editor Anastasia Pollack's world nearly a year ago. Now, tripping over dead bodies seems to be the "new normal" for this reluctant amateur sleuth.
When the daughter of a murdered neighbor asks Anastasia to create a family scrapbook from old photographs and memorabilia discovered in a battered suitcase, she agrees—not only out of friendship but also from a sense of guilt over the older woman's death. However, as Anastasia begins sorting through the contents of the suitcase, she discovers a letter revealing a fifty-year-old secret, one that unearths a long-buried scandal and unleashes a killer. Suddenly Anastasia is back in sleuthing mode as she races to prevent a suitcase full of trouble from leading to more deaths.
Brown Bag Discussion
Following our monthly Featured Speaker presentation we are bringing back Brown Bag discussion workshops. On alternating months we will discuss topics related to technical issues and the craft of writing and/or host critique sessions.
---
Author Spotlights
If you are an LSF Writers member with an upcoming release and would like to be a featured author, please e-mail us using the contact form in the Members Only section.
---
New Releases
As a reminder, if you are a LSF Writer Member and have a new release, please send your cover and a short book blurb to contact@lsfwriters.com. If you are a Published Author, please send your photo and a short bio to contact@lsfwriters.com so we may prepare our 2017 Author Spotlights.
---
Not a Member? Join us!
The Liberty States Fiction Writers welcome pre-published writers at all levels as well as e-published, small press and traditionally published authors.
Yearly dues for new members are $50 and include attendance at monthly workshops, reduced conference rate, access to Members Only section with videos/podcasts of past workshops, monthly newsletters, promotional opportunities and more.

---
We are now accepting workshop submissions for the 2018 Liberty States Fiction Writers Conference
We are looking for writers, readers, and industry professionals who can provide useful information and insights to others! We are currently accepting submissions geared toward writer, reader, and young adult tracks. The workshop submission topics may include, but are not limited to, business, branding, craft, inspiration, self-publishing, social media or reader-centric events.