Whether you're trying to sell your first book or your fortieth, the road to publication is never an easy one to navigate. Let Liberty States Fiction Writers guide your way. A multi-genre organization, the Liberty States Fiction Writers is dedicated to the education and support of all fiction writers. We provide workshops, networking events and promotional opportunities to aid both published and yet-to-be published writers.
Welcome to the Liberty States Fiction Writers!
---
April 8 Meeting
Creating a Compelling Plot Using the Hero's Journey by Caridad Pineiro
Creating a compelling plot is key to any successful novel, but what is the secret to a plot that makes sense and pacing which pulls a reader to the next page? USA Today and NY Times bestseller Caridad Pineiro will help you learn the secrets behind the Hero's Journey and how you can use this helpful tool to make your plot and pacing zing! Caridad will be discussing the history behind this plotting technique as well as the basic steps in the Hero's Journey. To allow her fellow writers to better understand the technique, Caridad will be using familiar movies to highlight the various steps in the Hero's Journey. Caridad recommends that you take a moment and watch one (or more) of the following movies to help you fully appreciate the workshop:
Disney's Beauty and the Beast
Officer and a Gentleman
Pretty Woman
The Replacements
Star Wars (the 1977 original)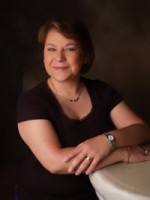 About Caridad Pineiro: NY Times and USA Today Bestseller Caridad Pineiro is the author of over 50 novels/novellas and has sold over one million books worldwide. Caridad writes romantic suspense, military romance, contemporary romance, paranormal romance, and vampire suspense. Caridad is also a Jersey Girl who loves to travel, cook, & spend time with family & friends. Caridad writes dark and sexy novels and novellas for those who live to love on the edge. Her sweet, but still naughty side, Charity Pineiro, writes contemporary romances packed with emotion and humor. For more information on Caridad/Charity, please visit www.caridad.com.
Brown Bag Discussion
Following our monthly Featured Speaker presentation we will have Brown Bag discussion workshops. On alternating month we will discuss topics related to craft, technology for writers, social media, the state of the publishing world, and/or critique sessions where writers can get input on their works in progress. For critique sessions, please bring five (5) copies of the work you wish to be critiqued.
This month (April) we will have a critique session. Please bring at least 5 copies of up to 3 pages that you would like to have critiqued.
---
Author Spotlights
If you are an LSF Writers member with an upcoming release and would like to be a featured author, please e-mail us using the contact form in the Members Only section.
New Releases
As a reminder, if you are a LSF Writer Member and have a new release, please send your cover and a short book blurb to contact@lsfwriters.com. If you are a Published Author, please send your photo and a short bio to contact@lsfwriters.com so we may prepare our 2017 Author Spotlights.
The Liberty States Fiction Writers welcome pre-published writers at all levels as well as e-published, small press and traditionally published authors.