Whether you're trying to sell your first book or your fortieth, the road to publication is never an easy one to navigate. Let Liberty States Fiction Writers guide your way. A multi-genre organization, the Liberty States Fiction Writers is dedicated to the education and support of all fiction writers. We provide workshops, networking events and promotional opportunities to aid both published and yet-to-be published writers.
Welcome to the Liberty States Fiction Writers!
SATURDAY, MAY 9, 2015
Join us on Saturday, May 9, at the main branch of the Edison Public Library for an otherworldly workshop for writers with YA author and supernatural non-fiction scribe Natalie Zaman and a super special roundtable with Liberty States members!
Show Me The Magick!  
So you're writing paranormal romance, urban or high fantasy, mystery, YA, thriller, suspense, historical, science fiction, or horror, and you want to incorporate magick as a subtle element or as a key focus.
Fantastic! But …
Where do you begin? How do you create the perfect magick for your manuscript – and practical magic for your process? 
If you want to incorporate magic into your manuscript, there's no better teacher than… EXPERIENCE! Join Natalie Zaman as she casts a spell (or two!), does some divination, and casts a magic circle for creative visualization to set your pens and keyboards on fire (figuratively speaking, of course!)!
Magick – literary and real – has rules and repercussions if not cast wisely or correctly. Natalie will touch upon how to handle the basics (and beyond) and the dividing line between beginner and expert.
Learn the types of divination – and what works best for you and your work-in-progress, what a "spell" really is (words have power!), tools of the magick trade, and fact from fiction.
Bring your questions (such as: why is magick spelled with a "k" at the end?) and magickal literary quandaries – our speaker has answers.
If you want to infuse magic into your method – and into your manuscript – don't miss Natalie Zaman's magickal morning on May 9!
SPEAKER BIO: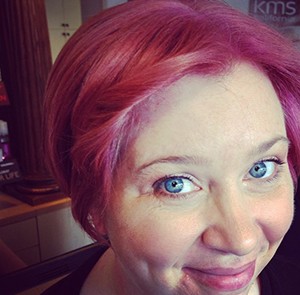 Natalie Zaman is a regular contributor to various Llewellyn annual publications. She is the co-author of the Graven Images Oracle deck (Galde Press), writes the recurring feature "Wandering Witch" for Witches & Pagans Magazine, and has work published in FATE, Sage Woman, and newWitch magazines. She is also the co-author of three young adult novels: Sirenz, Sirenz Back in Fashion (Flux), and Blonde Ops (Thomas Dunne Books). Her upcoming non-fiction series, Mapping the Magic (Llewellyn), features sacred sites (and other mystical tidbits) across America. The first book explores the magic of Washington, D.C and the states of the Northeast and New England, from Maryland to Maine. When she's not on the road, she's chasing free range hens in her self-sufficient back garden.
Find Natalie online at http://nataliezaman.blogspot.com and http://broomstix.blogspot.com.
FEATURED AUTHOR:
Directly after the presentation, Natalie Zaman will be selling and signing:
Llewellyn's 2015 Magical Almanac
Llewellyn's 2015 Spell A Day
As well as a few copies of her other books:
Sirenz
Blonde Ops
Graven Images Oracle
ROUNDTABLE:
Join the roundtable this month for a preview of the Liberty States "Get To 'The End'!" Writing Challenge for an afternoon of brainstorming and Q&A. Get prepped, get ready, get psyched, and hit the ground running when the challenge kicks off on June 1!  Take a look at the details, and come to May's roundtable with questions, suggestions, and ideas! 
READY …
SET …
WRITE!! 
WELCOME TO THE LIBERTY STATES
"GET TO THE END!"
WRITING CHALLENGE!
Here's the challenge – and we hope you choose to accept it!
WHO
YOU!  Yes, you. We're talking to you.
Only YOU can write that story in your head and heart.
No one else can. No one else will. 
WHEN
"The scariest moment is always just before you start.
After that, things can only get better."
— Stephen King
It's hard to start.
It's harder to keep going.
It's even harder to finish.
From June 1 – November 30, challenge yourself. Be the writer you want to be.
But you have to start!
If not NOW, when?
WHAT
A manuscript of at least 60,000 words OR a collection of shorter works (short stories, novelettes, novellas) that total at least 60,000 words.
Seem daunting? It's not. Think of it this way:
6 months = 60,000 words
That's 10,000 words per month
2500 words per week
500 words per day – that's 2 pages per day
Here's more:
SFWA provides word counts for their Nebula Awards. Check this out:
Short Stories:  under 7,500 words
Novelette: 7,500 to 17,500 words
Novellas: 17,500 to 40,000 words
Novels: over 40,000 words
So, you can pick and choose. Feel a short story fits that idea? Great! Write it. Then write more!
What you write doesn't have to be perfect. It won't be. In fact, it shouldn't be.
As Nora Roberts said, "You can fix anything but a blank page."
Write it now, revise it later.
HOW
A private Facebook group for chats, help, questions, and motivation will be up and running for the challenge.
How much did you write during the week? Weekly check-ins provide the space for support and accountability. Even if you wrote nothing during the week (hey, it happens!), you'll check in and let your fellow participants know.
Here's how you sign up:
Email us at contact@ lsfwriters.com with your name, email address, and Facebook username. We'll also have a sign-up sheet at the May meeting.
WHERE
Wherever you are, write – at home, on the train, on vacation. With support from other participants on the private Facebook group, at monthly meetings, and the loop you'll achieve that 60K goal. 
WHY
Why not? You've been bouncing ideas around for weeks. Maybe months – or even years. Get moving. Get motivated. Get to THE END!
Here are the top ten reasons to participate in the Get To The End Writing Challenge: 
Inspiration: Published authors (many of whom are both New York Times and USA Today bestselling authors) offer encouragement, advice, and answer questions
Motivation from and communication with your fellow participants
Official Participation Certificate – even if you don't hit your word count
Official Recognition Certificate when you hit that word count
Priority pick of agent/editor appointments at the Conference when you hit 60K
Entered into a prize drawing: at least 2 gift certificates (1 for Amazon, 1 for B&N) are up for grabs
Prize drawing: Personal brainstorming session/one-on-one Ask The Author session with superstar suspense author Melinda Leigh
Prize drawing: Agent critique
Knowing you're not alone – support is crucial to success
The satisfaction of accomplishment: YOU COMPLETED A MANUSCRIPT!
A manuscript you can revise, pitch, and potentially sell! Congratulations!
Beginning is the hardest part
Keep going through the middle
Get to THE END –
Join the Liberty States Fiction Writers "Get to THE END" Writing Challenge!
"To accomplish great things we must not only act, but also dream;
not only plan, but also believe." – Anatole France
---
Have Questions? Click here to contact us.
---
Author Spotlights
If you are an LSF Writers member with an upcoming release and would like to be a featured author, please e-mail us using the contact form in the Members Only section.
New Releases
As a reminder, if you are a LSF Writer Member and have a 2014 and/or 2015 release, please send your cover and a short book blurb to contact@lsfwriters.com. If you are a Published Author, please send your photo and a short bio to contact@lsfwriters.com so we may prepare our 2015 Author Spotlights.
The Liberty States Fiction Writers welcome pre-published writers at all levels as well as e-published, small press and traditionally published authors.