Whether you're trying to sell your first book or your fortieth, the road to publication is never an easy one to navigate. Let Liberty States Fiction Writers guide your way. A multi-genre organization, the Liberty States Fiction Writers is dedicated to the education and support of all fiction writers. We provide workshops, networking events and promotional opportunities to aid both published and yet-to-be published writers.

Welcome to the Liberty States
Fiction Writers!
March 15 Meeting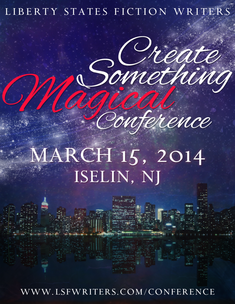 There is no meeting in March due to the annual Create Something Magical Conference with keynote speaker SHERRILYN KENYON and a wealth of workshops, panels, editors and agents! Whether you're a reader or a writer, check out this fabulous conference.
To register for the conference, please click here.
If you are a published author and would like to participate in the book fair, please click here.
If you are already registered for the conference and would like to pitch to an editor or agent, please click here.
Create Something Magical Conference Book Signing
The book signing at the Create Something Magical Conference is open to the public! Meet NY Times Bestselling Author SHERRILYN KENYON and over 30 other authors including:
Maria K. Alexander
Cris Anson
Christi Barth
Logan Belle
Laura Bradford
Katana Collins
RoseAnn DeFranco
Penni DePaul
Stephanie Evanovich
K.M. Fawcett
Judi Fennell
Joya Fields
Tina Gabrielle
Rosie Genova
KT Grant
Sara Humphreys
Babette James
Cat Johnson
Stephanie Julian
Sherrilyn Kenyon
Laura Kaye
Jenna Kernan
Eliza Knight
Kathy Kulig
Melinda Leigh
Penelope Marzec
Kate McMurray
Tere Michaels
K.A. Mitchell
Shelley Noble
Caridad Pineiro
Jennifer Sampson
Tarah Scott
Elisabeth Staab
Damon Suede
Jen Talty
Cathy Tully
E.F. Watkins
Lois Winston
When: Saturday, March 15, 2014
4:30 – 6:00 PM
Where: Renaissance Woodbridge Hotel
Diamond A Ballroom
515 Route 1 S & Gills Lane
Iselin, NJ 08833
Please note: Only 5 pre-purchased books per person allowed in the signing.
Author Spotlights
If you are an LSF Writers member with an upcoming release and would like to be a featured author, please e-mail us using the contact form in the Members Only section.
New Releases
As a reminder, if you are a LSF Writer Member and have a 2013 and/or 2014 release, please send your cover and a short book blurb to contact@lsfwriters.com. If you are a Published Author, please send your photo and a short bio to contact@lsfwriters.com so we may prepare our 2012 Author Spotlights.
The Liberty States Fiction Writers welcome pre-published writers at all levels as well as e-published, small press and traditionally published authors.
Click here to Join the Liberty States Fiction Writers!
Click here to take a video tour of LSF Writers Member Benefits.