Whether you're trying to sell your first book or your fortieth, the road to publication is never an easy one to navigate. Let Liberty States Fiction Writers guide your way. A multi-genre organization, the Liberty States Fiction Writers is dedicated to the education and support of all fiction writers. We provide workshops, networking events and promotional opportunities to aid both published and yet-to-be published writers.
Welcome to the Liberty States Fiction Writers!
---
 SATURDAY, JANUARY 14, 2017
Dialogue: Different Characters, Distinct Voices
By Rosie Genova, author of the Italian Kitchen Mysteries
In this hands-on craft workshop, I focus upon how effective dialogue not only reflects a character's background and personality, but also reveals that personality through word choice, inflection, and syntax. For example:
The way we express ourselves verbally is informed by a number of factors, such as:
background and heritage, including race and religion
profession and level of education
geographic region
age
gender
relationship and level of familiarity to the other person or persons
context in which we are speaking (we speak one way at work and another way at home, for example)
Physical or emotional state
We all have our own unique voices, and it should be the same for our characters. In our writing, we can't only rely on physical details or narrative description to differentiate one fictional creation from another. A distinct voice fleshes out your characters, lending them a humanity to convince the reader they are living and breathing on the page.
There are many ways to differentiate one character's speech from another:
Length of sentences and phrases
Standard English (kind of, going to) vs. vernacular (kinda, gonna)
use of slang, regionalisms, idioms, and foreign phrases
punctuation, such as apostrophes, em dashes, and ellipses
vocabulary (formal, informal, use of jargon, etc.)
Syntax and word order
Using examples of smart, effective dialogue from writers as disparate as Elmore Leonard and Jane Austen, I will do a visual presentation and provide attendees with handouts that will include a "case study" model in which they can delve into the characters they create in their own work. If time allows, we can workshop a few examples.
---
ABOUT ROSIE GENEVA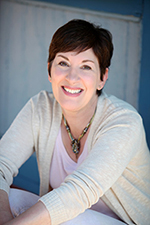 A Jersey girl born and bred, national bestselling author Rosie Genova left her heart at the shore, which serves as the setting for much of her work. Her series, the Italian Kitchen Mysteries, is informed by her appreciation for good food and her love of classic mysteries from Nancy Drew to Miss Marple. Her debut novel, Murder and Marinara, was named a 2013 Best Pick by Suspense Magazine and was a finalist for a 2014 Daphne Award.  Her current release is Book 3 in the series, A Dish Best Served Cold. Rosie still lives in her home state with her husband and the youngest of her three Jersey boys.
---
Rosie Geneva
will make her books available during and after her presentation:
A cold case and a boardwalk chase lead straight to a murderer. . .
At the Casa Lido, the end of summer means a party, and hit whodunit writer Victoria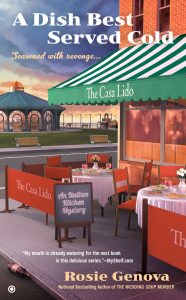 "Vic" Rienzi and her family are cooking like crazy for the restaurant's seventieth anniversary celebration. As they chop onions and garlic, old family friend Pete Petrocelli stops by, saying he knows something that would make for a good mystery novel. Curious, Vic asks Nonna to elaborate on Pete's claim and learns of a relative who mysteriously disappeared back in Italy.
The night of the party brings a crowd—and a full throttle hurricane. When the storm finally passes, everyone thinks they're in the clear—until the first casualty is found, and it's Pete. Remembering his visit, Vic isn't certain Pete's death was an accident and decides to dig deeper into his story. What she finds is meatier than Nonna's sauce…
---
---
Brown Bag Discussion
Following our monthly Featured Speaker presentation we are bringing back Brown Bag discussion workshops. On alternating month we will discuss topics related to technical issues and the craft of writing and/or critique sessions.
This month (January) we will discuss building an effective website for LSFW. Bring a brown bag lunch and your ideas and examples on how to improve our website and social media presence.
Next month (February) we will hold a pitch practice session for those interested in pitching to agents and editors during the Create Something Magical Conference.
---
Have Questions? Click here to contact us.
---
Author Spotlights
If you are an LSF Writers member with an upcoming release and would like to be a featured author, please e-mail us using the contact form in the Members Only section.
New Releases
As a reminder, if you are a LSF Writer Member and have a new release, please send your cover and a short book blurb to contact@lsfwriters.com. If you are a Published Author, please send your photo and a short bio to contact@lsfwriters.com so we may prepare our 2017 Author Spotlights.
The Liberty States Fiction Writers welcome pre-published writers at all levels as well as e-published, small press and traditionally published authors.