Whether you're trying to sell your first book or your fortieth, the road to publication is never an easy one to navigate. Let Liberty States Fiction Writers guide your way. A multi-genre organization, the Liberty States Fiction Writers is dedicated to the education and support of all fiction writers. We provide workshops, networking events and promotional opportunities to aid both published and yet-to-be published writers.
---
July 8 Meeting
Writing Screenplays: A Brief Encounter
By Brian McKinley

Novelist Brian McKinley, author of Ancient Blood and Drawing Dead, will share his expertise on creating and marketing screenplays for public consumption. Brian will provide resources and examples along with a brief writing exercise on the fine point of screenwriting formats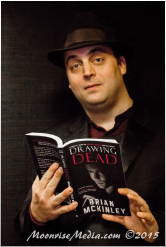 About Brian McKinley: Brian McKinley doesn't really exist. He's a constructed mortal identity used by a relatively young Vampyr in order to publish the truth about The Order. Due to the world-wide influence of The Order and its minions, these accounts must all be published as fiction; however, they are all very real and actually happened. Sometimes the names and sequence of events have been changed to protect the innocent, the guilty, and to keep from getting sued.
Brian is no longer a typical Vampyr and, for this reason, lives in hiding and writes from a secret location. The real "Brian" lives a life of danger and excitement; he loves Star Trek, Game of Thrones, and Boardwalk Empire as much as he loves Chicken Fried Steak. He's a reader, a role-player, and a dreamer who doesn't believe that "liberal" is a dirty word. He's lived many lifetimes and is eager to share as many of them as possible with his readers. You can visit with Brian at www.brianmckinleyauthor.com.
Brown Bag Discussion
Following our monthly Featured Speaker presentation we will have Brown Bag discussion workshops. On alternating month we will discuss topics related to craft, technology for writers, social media, the state of the publishing world, and/or critique sessions where writers can get input on their works in progress. For critique sessions, please bring five (5) copies of the work you wish to be critiqued.
This month (July) we will not have a Brown Bag Discussion as the library closes early due to summer hours.
---
Author Spotlights
If you are an LSF Writers member with an upcoming release and would like to be a featured author, please e-mail us using the contact form in the Members Only section.
---
New Releases
As a reminder, if you are a LSF Writer Member and have a new release, please send your cover and a short book blurb to contact@lsfwriters.com. If you are a Published Author, please send your photo and a short bio to contact@lsfwriters.com so we may prepare our 2017 Author Spotlights.
---
Not a Member? Join us!
The Liberty States Fiction Writers welcome pre-published writers at all levels as well as e-published, small press and traditionally published authors.
Yearly dues for new members are $50 and include attendance at monthly workshops, reduced conference rate, access to Members Only section with videos/podcasts of past workshops, monthly newsletters, promotional opportunities and more.