Whether you're trying to sell your first book or your fortieth, the road to publication is never an easy one to navigate. Let Liberty States Fiction Writers guide your way. A multi-genre organization, the Liberty States Fiction Writers is dedicated to the education and support of all fiction writers. We provide workshops, networking events and promotional opportunities to aid both published and yet-to-be published writers.
Welcome to the Liberty States Fiction Writers!
SATURDAY, JULY 11, 2015
PRESENTATION
FORENSIC SCIENCE & DRUG ANALYSIS
With Deborah A. Cole, Forensic Scientist and Drug Unit Supervisor with the NJ State Police
Join us on Saturday, July 11 at the main branch of the Edison Public Library for an in-depth presentation on Forensic Science, drug analysis, and designer drugs with Forensic Scientist and Drug Unit Supervisor for the New Jersey State Police, Deborah A. Cole.
We'll learn what a forensic scientist does, what forensic analysis is, and what branches of forensic science exist. Deborah will tell us about her path in forensic science and what she does for the NJ State Police as a Forensic Scientist with a specialty in drug analysis – and in particular designer drugs.
With her forensic expertise in designer (synthetic) drugs, Deborah will also discuss the many challenges facing the Office of Forensic Science's Drug Chemistry Unit. Bath salts and synthetic cannabinoids have become serious issues for the state of New Jersey – and a challenge to analyze. She'll explore the reasons why there's a rise in these synthetics, the trends, and future designer drugs to watch for.
If you want to utilize forensics, forensic science, and designer drugs in your current, next, or future manuscript this is the presentation from one of the top experts you don't want to miss! Join us for Deborah A. Cole's presentation on July 11th!
SPEAKER BIO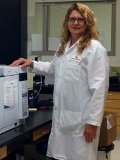 DEBORAH A. COLE – AAS, BS, MS, FORENSIC SCIENTIST III, SUPERVISOR – DRUG UNIT:
NJ STATE POLICE 
Deborah Cole started her forensic career while she was a student at Juniata College, working as a summer intern at the NJ State Police Forensic Laboratory in 1983 and 1984. She graduated with an MS in Microbiology and Analytical Chemistry from Indiana University of Pennsylvania graduate school.
Deborah joined the Office of Forensic Sciences – Central Regional Laboratory in 1989, as a Forensic Scientist in the drug unit. In 1990, she was transferred to the trace evidence unit where she was instrumental in implementing the use of GC/MS for fire debris analysis, as well as researching a cryo-extraction procedure. In 1994, she was transferred back to the drug unit, where she continues as an integral member of the unit – as a Drug Unit Supervisor. Additionally, she serves as the Drug Quality Assurance (QA) Coordinator for the Office of Forensic Sciences. As a Drug Coordinator she audits and ensures the quality of the analysis in the Office of Forensic Sciences 4 regional laboratories.
Deborah was instrumental in formulating a comprehensive law to govern synthetic cannabinoids. As a result of tracking the trends in abused synthetic drugs, the State of New Jersey adopted Deborah's suggested legislation, and enacted the law on February 28th, 2012. One month after New Jersey enacted the Synthetic Cannabinoid Law, New York State adopted the same law.
Deborah has lectured around the country to numerous organizations, has continued and extensive training in Hazardous Materials, Arson Training, and other areas, is an expert witness in New Jersey Municipal courts and Superior Courts, and New Jersey administrative law hearings in cases involving drugs, and is a member of several scientific associations:
American Academy of Forensic Scientists (2001-present)
American Society of Clinical Pathologists – Certified (1982- present)
American Chemical Society (1986-2009)
New Jersey Association of Forensic Scientists (1993-2007)
---
Have Questions? Click here to contact us.
---
Author Spotlights
If you are an LSF Writers member with an upcoming release and would like to be a featured author, please e-mail us using the contact form in the Members Only section.
New Releases
As a reminder, if you are a LSF Writer Member and have a 2014 and/or 2015 release, please send your cover and a short book blurb to contact@lsfwriters.com. If you are a Published Author, please send your photo and a short bio to contact@lsfwriters.com so we may prepare our 2015 Author Spotlights.
The Liberty States Fiction Writers welcome pre-published writers at all levels as well as e-published, small press and traditionally published authors.