Authors are responsible for most of their own promotion now, moreso than any other time, from what I've been told. I doubt that will ease up any time soon. The successful authors of my personal acquaintance have spent considerable time and effort on publicity. These authors are on or near the NYT Bestsellers list, so don't think self-promo is for small press authors only.
Bottom line is, I believe every author should learn as much about promotion and marketing as she can, and be willing to do whatever it takes to sell books and earn name recognition. There are many avenues–blogs, social networks, online classes, postcard mailings, spamming your friends (no, I didn't really say that!), and of course, contests. Most of us choose a variety of these in our marketing plans (you do have a plan, right?), including contests. Today, we'll discuss what makes a successful contest and how to go about conducting one.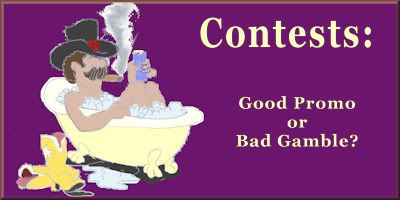 I do think contests are an effective way to build your mailing list and garner name recognition. I'm not so sure it sells books, but as the saying goes, we're using our current release to sell our next book. Is that true? Don't know. But I do know if your goal is to build your mailing list, a contest is a jimdandy way of doing it.
(Question: Is it still okay to say "jimdandy"? Or is offensive to someone or something? If so, forget I wrote that, please.)
One thing I learned early on was not to get in over my head. Lesson 1: I have a super hard time getting things mailed–don't know why, but I'm missing that gene. Luckily, my sister is good at it and agreed to take over that part. I bought business cards with her name and the title "Contest Coordinator" before she could change her mind.
So get the practical, physical aspects of conducting the contest under control.
Who will design and code the web pages?
Who will code the messages for online promotion?
And what is the plan for online promotion of the contest?
(You do have a plan, right?)
What are the prizes?
Who will package and mail the prizes?
How will the contest be conducted?
What timeframe? In conjunction with book release? Or a holiday?
Yes, it's a lot to think about, but all these considerations and more go into the decision to run a contest. There isn't enough space to go into all the items in detail, but I'll touch on each of them.
Contests are nearly always run from the author's website, and for good reason–to bring traffic so the contestant might be lured to buy a book. A website is the best bang for the marketing dollar, and to make the most of it, we need a dynamic site, not static. Contests are a good way to draw readers. But who's going to code that page? If the author codes it herself, then that project has to be coordinated with deadlines, copy edits, and all that. If not, she has to be prepared to pay. Either way, website changes don't happen magically or for free.
Same with online promotion. I'm on over 100 yahoogroups, and of those, probably half are readers loops or promo loops. There's even a yahoogroup that tracks romance promo groups and sends you an announcement each day of what you can post and where called Promotion Loop Schedule. Again, this takes coding (because you don't want to send amateurish promos), and it takes time to post all those messages–so again you have to weigh the time involved with your writing schedule.
The plan? Yes, before you even start, you have to decide what kind of contest to run, how long it will take, who's going to do what and when, and what is a reasonable budget. This is a business, and good business requires planning. Write it down and record the schedule on your calendar.
What are the prizes? More is better–either more expensive, or more prizes. Either will get you more entrants than giving away one download. The prizes do need to be commensurate with the scope of the contest; e.g., if your marketing is limited to emailing, most people will never know about the vacation in French Polynesia you're offering. Save the vacation for a nation-wide print campaign. Download of your most recent ebook? That's also iffy, because the people who want it are probably the same ones who would buy your book anyway, so you may have just lost a sale. I like to offer my friends' books. This gives me a chance to give them a little free publicity because they've helped me so much, and it also gives me good publicity, so a win-win situation. And I offer my book to them for contests, also.
Okay, one more paragraph about prizes. I recently ran a pet pictures contest and I was amazed at the really awesome pet pictures people sent in. So I told everyone that "we" would mail them something, whether they won or not. Except I sort of forgot to mention it to my sister. This is not a good thing, I learned, unless one enjoys having knots thumped upon one's head. So don't change the rules in the middle of the game. Make sure everyone knows what's going to happen and when, and make sure they have the money and supplies to get the job done.
I've conducted three kinds of contests: scavenger hunts with other authors, two different types of voting contests, and then the join-my-mailing-list contest where the winner is chosen from the mailing list. By the way, if you want to join mine, you have to put up with Princess Keely, who runs Keely's Contest and News Group. (Hint: she rather likes being called "Princess Keely" and has her own myspace page as well.)
Scavenger hunts have resulted in lots of hits to my website and lots of subscriptions to Keely's group. (Caveat: too many authors and too complicated searches will put off entrants.) Pet pictures voting resulted in the most website hits and the most inquiries about my latest release. The join-my-mailing-list contests didn't give me a lot of website hits, but quadrupled the number of members on the mailing list in one month.
The last thing we'll discuss is the timing of the contest. Every romance author has a Valentine's Day contest, it seems (including me). Do you want to plan your contest then? Or sit it out? I'm thinking this year I might sit it out and have a St. Patrick's Day contest instead, just because there won't be so much competition for PR. If you're having a winter holiday contest, you're best planning it to be over by mid-December, if not earlier. People are too busy after that to pay much attention. Make sure you schedule your contest to get the most attention to your books and your website.
Hmmm, we haven't had a contest on Keely's Contest and News Group lately, so at 11:59pm Pacific Time a week from today, I'll draw one name at random from the group. All you have to do is be a member, or join if you're not currently a member.
That said, I've already broken a rule because my sister doesn't know about this. Oh boy, I'm in trouble now!
The winner will receive a signed copy of Down Home Ever Lovin' Mule Blues. Sorry, but USA shipping only.
Good Luck!
Jacquie
Down Home Ever Lovin' Mule Blues (See the Book Video featuring Justin Saragueta)
Jacquie Rogers *** Myspace *** Twitter *** Facebook
Faery Special Romances *** Book Video
Royalties go to Children's Tumor Foundation,
ending Neurofibromatosis through Research