Shobhan Bantwal appeared at the Edison Public Library on September 11th to discuss her latest release, THE SARI SHOP WIDOW.
Caridad Piñeiro appeared at the DragonCon Convention in Atlanta, Georgia and participated in a panel on Staying Afloat in an Uncertain Publishing Industry.
Trudy Doyle makes her Home Shopping Network debut Monday as part of a six-book set of Contemporary Romances in HSN's "Escape with Romance" promotion! Come join Ravenous Publisher Holly Schmidt as she introduces this fabulous collection at the following times:
Monday September 14 – 8:35am – 8:55am then 4:35 pm- 4:55pm. Early Tuesday September 15 -3:00am – 3:20am.
http://electronics.hsn.com/escape-with-romance-exclusive-6-book-collection_p-5700283_xp.aspx?cm_mmc=rss*Browse*2*NA
Debra Mullins is thrilled to announce that she has accepted an offer for her paranormal romance trilogy from Heather Osborn at Tor Forge.
Karen Bostrom Walling is excited to announce that she has recently signed a contract with The Wild Rose Press to publish her first romantic suspense novel, DANGEROUS SANDS. Writing as Karen Bostrom, she has just begun the editing rounds process of her book which will be part of the Last Rose in Summer line. She would like to thank the members of Liberty State Fiction Writers and other writing organizations, and especially her critique partners, for all their hope and support throughout the years.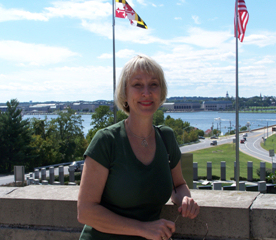 Various members of the Liberty States Fiction Writers participated in the group's first street fairs in Red Bank and Jamesburg.
Joann Hali is pleased to announce she was admitted to RWA's PAN group in September.
Melinda Leigh is now represented by Jill Marsal of the Marsal Lyon Literary Agency.
Christine Bush is happy to announce that she's gotten a contract from Wild Rose Press for her new contemporary, Cindy's Prince. There is no publication date yet, but the book will be in print and e-book. This one is an upside down fairy tale, set in Philadelphia. "What happens if Cindy loves living her single parent life, helping out in her struggling community and absolutely refuses to go hide in the castle? It takes a true Prince to adapt to car seats and occasional baby puke in order to live happily ever after…"
Patt Mihailoff was honored at this year's Golden Apple Awards as the 2009 Author of the year.