Congratulations to our Mayke It Happen Finalists!
We are pleased to announce the seven finalists who completed 60,000
words during the Mayke-it-Happen Challenge:
Deborah Blake Jamie Banta
Monica Liming-Hu Deanna Cassidy
Carolyn Coles Diane Gerber
Stacey Wilk
The following finalists won critiques of their partial manuscripts from either an agent or editor:
Deborah Blake—Kevan Lyon, Marsal Lyon Literary Agency
Deanna Cassidy—Stephany Evans, FinePrint Literary Management
Carolyn Coles—Patience Smith, Harlequin
Congratulations to all for their incredible accomplishments.
LSF Writers held its first off-site get together at the 2009 RWA Conference in Washington, D.C. Here are some photos from the first, but not last, LSF Writers dinner.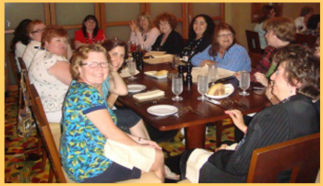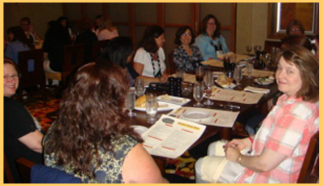 Mitzi Flyte has won two awards from the Greater Lehigh Valley Writers Group:
Essay: "Love Pats" in The Ultimate Cat Lover Book
Short Story: "Deadly Inked" in the Deadly Ink Anthology 2008
Mary Kennedy is pleased to report that she will start writing reviews for Book Page this Fall. Book Page is available free in libraries all over the US and has over half a million paid subscribers. She continues to write crime fiction reviews for the Examiner at http://bit.ly/3Nldpd.
Cris Anson is thrilled to report that DANCE OF THE ROGUE, the fourth book in her DANCE series, was released by Ellora's Cave on September 2. This is particularly gratifying to her because after her husband's death, she had been unable for several years to concentrate on writing. In ROGUE, Bad-Boy Rolf finally finds his own (older, plus-sized) heroine. Read an excerpt at www.crisanson.com.
Melinda Leigh is pleased to have made the final round in the From The Heart Romance Writers Golden Gateway contest as well as the Heart of the West contest.
Jamie Banta's DEEPER THAN BONE placed with an Honorable Mention in the paranormal category of the Put Your Heart in a Book contest.
E.F. Watkins gave talks on fiction this summer at the Pequannock Public Library and at Barnes & Noble in Ramsey. In September, she will be taking part in the Red Bank and Jamesburg street fairs with LSFW and SinC/CJ, respectively. On October 17, she will be doing a panel at the Barnes & Noble in Wilkes-Barre, PA, and will have a signing on October 25 for DANU'S CHILDREN, at Practical Magick in Pompton Lakes, NJ.
Marsha Browne, Zita Christian, Paula Scardamalia, and Anne Frazier Walradt taped a pair of Page 1 TV shows recently, which will be seen on Connecticut and Massachusetts public television. The shows are interviews telling how a group of six women (including the four above) completed the book of a dying friend. The book, 101 WAYS YOU CAN HELP: HOW TO OFFER COMFORT AND SUPPORT TO THOSE WHO ARE GRIEVING by Liz Aleshire, was published in May 2009 by Sourcebooks.
Caridad Piñeiro will be appearing at the DragonCon Convention in Atlanta, Georgia, from September 4 to September 7. Look for her at booth 707.
Shobhan Bantwal will be appearing at the Edison Public Library on September 11 at 6 P.M. to discuss her latest release, THE SARI SHOP WIDOW.