Today's Magical read is Stronger Than Sin by Caridad Pineiro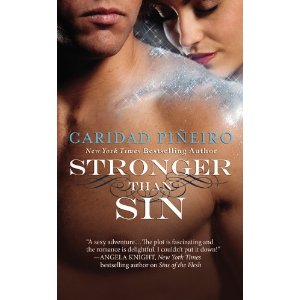 Dr. Liliana Carrera nearly lost her life to Wardwell scientists. She won't let them harm other innocent victims, like her new patient, Jesse Bradford. The former pro athlete had the best hands in the NFL . . . until an injury forced him to undergo Wardwell's experimental gene therapy. Now Jesse's gorgeous body is superhuman-but his strength comes at a price.
With Wardwell threatening his family, Jesse can't tell Liliana all he knows. Yet he can't resist her compassion . . . or her healing, erotic touch. As their passion flares, Jesse's body becomes dangerous and volatile. For evil men are plotting to change the face of humanity-and will destroy whoever stands in their way.
Stay tuned for tomorrow's magical read. All of these titles and more will be available at the Liberty States Fiction Writers conference book fair on March 19th from 5:30-7:00pm.