Today's Magical Read is the Proper Care and Maintenance of Friendship by Lisa Verge Higgins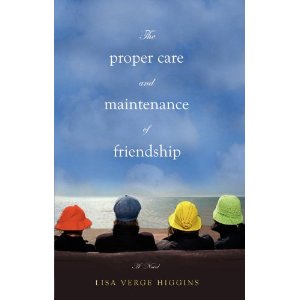 Rachel Braun plans it well. An extreme-sport athlete, Rachel becomes frustrated watching her best friends drift apart, settle into ordinary lives, and turn into shadows of the fearless women they'd once been. So, during a wine-soaked reunion, she extracts a promise from them: If something ever happens to me, I'm writing a letter to each of you. Promise you'll do what I ask.
The women agree without hesitation. After all, Rachel Braun is indestructible.

So begins THE PROPER CARE AND MAINTENANCE OF FRIENDSHIP, a novel about three friends forced to face their biggest fears. Sarah, a jaded international relief worker, must track down the only man she ever loved—a personal icon who represents the last of her crumbling ideals. Kate, a stay-at-home martyr, hurls herself out of an airplane. The ten minutes of terror spur her to seize back what she'd sacrificed for the sake of family—at a terrible risk. And Jo, a Kentucky-bred media mogul voted "least likely to breed," is given the most unexpected task of all: Caring for Rachel's orphaned and emotionally fragile daughter. As their lives careen out of control, the three friends turn to one another for help—and realize the true value of friendship.
Stay tuned for tomorrow's magical read. All of these titles and more will be available at the Liberty States Fiction Writers conference book fair on March 19th from 5:30-7:00pm.