Today's Magical Read is The Suduko Murder by Shelley Freydont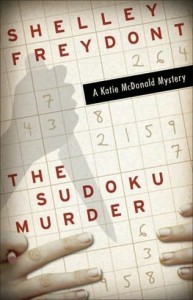 Professor P.T. Avondale is found murdered at his desk at the Avondale Puzzle Museum. Katie McDonald, master puzzle-solver, has returned home to save her childhood mentor's museum from being auctioned off when she learns of the Professor's death.
Now she finds herself curator of the museum and in charge of the Professor's newest mentee, a fourteen-year-old runaway. Katie is now faced with working to solve the puzzle of the Professor's murder before a ruthless killer applies his own deadly solution.
Stay tuned for tomorrow's magical read. All of these titles and more will be available at the Liberty States Fiction Writers conference book fair on March 19th from 5:30-7:00pm.