Today's Magical Read is I Dream of Genies by Judi Fennell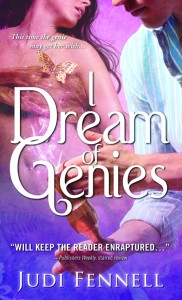 He needs to change his luck, and fast!
Matt Ewing would gladly hunt down a fortune in lucky pennies if he thought it would help save his business.
But for all his hoping, Matt's clueless when his long awaited lucky charm falls in his lap in the form of a beguiling genie. He just can't believe that this beautiful woman could be the answer to his prayers…
She's been bottled up for far too long!
Spending 2,000 years in a bottle would make any woman go a little stir crazy. So when Matt releases Eden from her luxurious captivity, she's thrilled to repay him by giving him the magical boost he needs…
But for all her good intentions, Eden's magical prowess is a little rusty and her magical mistakes become more than embarrassing. And though Eden knows falling in love will end her magic and immortality, she can't help but be drawn to the one man who wants her just for herself…
Stay tuned for tomorrow's magical read. All of these titles and more will be available at the Liberty States Fiction Writers conference book fair on March 19th from 5:30-7:00pm.